In practice since 2004
---
Certified in Foot Surgery
Certified in Reconstructive Rearfoot/Ankle Surgery by the American Board of Foot and Ankle Surgery®
Dr. Paradoa is now the President Elect of the American Board of Foot and Ankle Surgery®!

Certified with American Professional Wound Care Association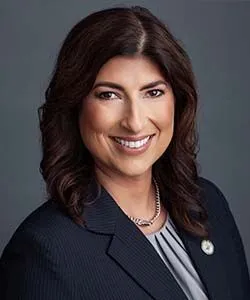 Dr Amberly Paradoa has proudly served the Indian River County area since 2005. She is founder and president of Advanced Foot and Ankle of Indian River, which has evolved into a successful group practice with multiple locations, serving both County area hospitals and wound centers.
Dr. Paradoa is double board certified in Foot Surgery and Reconstructive Rearfoot/Ankle Surgery by the American Board of Foot and Ankle Surgery (ABFAS), and is a fellow of the American College of Foot and Ankle Surgery. Since 2005, she has been an attending physician at Cleveland Clinic Indian River Hospital and Sebastian River Medical Center and a certified wound care specialist at their respective wound centers. She currently serves as Chief of Podiatric Surgery at Cleveland Clinic Indian River Hospital. She is a leader in her community serving as founder and President of the Indian River Podiatric Medical Association and Medical Advisor for Nurse on Call. She has contributed in authoring publications and giving lectures around the nation.
Dr. Paradoa is an honors graduate earning her Podiatric Medical degree and Master of Science degree at Barry University and graduated in the top five of her medical class with a GPA of 3.975. She attended University of Central Florida earning her Bachelor of Science degree in Biology and consistently placed on the Dean's list. She completed a three-year Foot and Ankle surgical residency, serving as chief podiatric resident at Palmetto General Hospital in Miami, FL with a large emphasis in reconstructive foot and ankle surgery, trauma surgery and limb salvage surgery. She was the first female to complete a fellowship in Ilizarov external fixation Surgery at the RISC-RTO in Kurgan, Russia.
Dr Paradoa is a national leader in the Podiatric Foot and Ankle surgical community and is currently serving as a Board of Director on the executive committee for ABFAS. She was recently elected as President Elect of ABFAS and will serve as Exam Chair of ABFAS for 2020-2021. She also serves on the ABFAS Cognitive Examination and Surgical Case Review Committees. She served on the ABFAS Strategic Planning, Examinations Field Testing, Online Study Guide ad hoc Committees, standard setting committee and as an oral board examiner.
She volunteers for several organizations, including Indian River Medical Society's We Care
Program, The Education Foundation of Indian River County, and has served abroad at the Haiti Clinic.
Dr Paradoa is a first generation Cuban American whose parents have been very supportive throughout her career and very pivotal in her upbringing instilling family values she holds very dear. She is a Florida native, growing up in the Orlando area. She is a proud wife and mother of a wonderful son. When not at work she enjoys spending time with her family and friends; doing many outdoor activities such as boating, fishing and hiking.
WORK HISTORY:

Amberly C. Paradoa, DPM, PA DBA Advanced Foot & Ankle of Indian River --Private Practice; Vero Beach and Sebastian, FL. February 2008 to Present
Indian River Foot and Ankle, P.A.-Sebastian and Vero Beach, FL. May 2005 to February 2008
Institute for Sports Medicine and Orthopaedic Surgery-West Palm
Beach and Key Largo, FL. August 2004 to February 2005

HOSPITAL AFFILIATION:

Cleveland Clinic Indian River Hospital — July 2005 to Present
Section Chief of Podiatric Surgery under the Department of Orthopedics




Cleveland Clinic Indian River Hospital Wound Healing Center Panel Physician Sebastian River Medical Center-May 2005 to present
Sebastian River Wound Care Center Panel Physician




HealthSouth Treasure Coast Rehabilitation Hospital-July 2005 to present




POST GRADUATE EDUCATION:

Ilizarov Traumatology and Reconstruction Fellowship—Kurgan, Russia — March 2004 to May 2004

● Advanced surgical training in deformity correction and traumatology of the lower extremity utilizing the Ilizarov methodology

Palmetto General Hospital Podiatric Surgical Residency — Miami, FL—July 2001 to June 2004

● Three year surgical residency program
● Third year includes fellowship in advanced rearfoot reconstruction.

– Advanced Ilizarov Training (Dr. George Vito)
– Peripheral Nerve Surgery (Dr. Kinmon)
– Advanced Rearfoot Reconstruction (Dr. Miller/Dr. Perler)
– Chief Podiatric Resident—In charge of lectures, surgeries and continuing education for junior residents

● High volume lower extremity trauma including vast experience in external fixation
● High volume elective forefoot and rearfoot reconstruction
● Perform monthly lectures to interns and family practice residents on lower extremity pathologies
● Chief Resident on the FDA study of the Buechel-Pappas Total Ankle Joint Replacement
● Provide lectures to surrounding Podiatric Surgical Residencies on techniques of external fixation and lower extremity trauma
● National Boards of Podiatric Medical Examiners, Part III, December 2002
● Board Qualified—Rearfoot Reconstruction and Foot Surgery, June 2003
● Yucatan Crippled Children's Project—Merida, Medica July 2001 to Present

– Primary residency program involved in the project
– Bi-monthly trips to Merida, Mexico
– Perform surgery on pediatric patients with numerous types of lower extremity deformities such as: Spastic Equinus, Talipes Equino Varus, Metatarsus Adductus, Pes Plano Valgus, non-unions, congenital/acquired deformities.
– Provide clinical services to the indigent children of the Yucatan Peninsula and surrounding areas

● Taylor Spatial Frame External Fixation Training Course—San Antonio, Texas, June 2004 and Steamboat Springs, CO, January 2005
● Selected as Fellow for Advanced Training in Ilizarov Methodology—Kurgan, Russia, April 2004
● Ilizarov Course "RISC-RTO"—Kurgan, Russia, October, 2003
● Basic Ilizarov Techniques Course—Marina Del Rey, California, November 2002

EDUCATION/ CERTIFICATION:

Board Certified in Rearfoot Reconstruction and Ankle Surgery-American Board of Foot and Ankle Surgery;
American Board of Foot and Ankle Surgery;

September 1, 2010 Recertification in 2018

Board Certified in Foot Surgery- American Board of Foot and Ankle Surgery;

September 1, 2008 Recertification in 2017

Fellow- American Professional Wound Care Association, 2008 to present
Fellow- American College of Foot and Ankle Surgeons, 2008 to present

ACFAS Arthroscopy Certification in Chicago, Illinois June 2011

Barry University — Miami Shores, Florida

School of Graduate Medical Sciences, Podiatric Medicine and Surgery

Doctor of Podiatric Medicine, May 2001 with Honors

National Board of Podiatric Medical Examiners Part I, July 1999
National Board of Podiatric Medical Examiners Part II, March 2001
Ossatron Shockwave Certification 2003

Honors, Accomplishments and Activities:

– Podiatric Cumulative Grade Point Average: 3.975/4.0 index
– Pi Delta Podiatric Honor Society
– Recipient of the Scholarship for Scholastic Achievement, 2001
– Recipient of the Dean's Academic Scholarship, 1997 to 2001
– Recipient of the Student Leadership Scholarship, 1998 to 2001
– Recipient of Fund for Podiatric Medical Education, 1999 to 2001
– Recipient of the Clinical Podiatric Faculty Scholarship, 2000
– Recipient of the Dr. Marvin Steinberg Scholarship, 2000
– Academic Deans List
– Nominated to the President's list for scholastic excellence, five semesters
– Elected Secretary for Florida Podiatric Medical Students' Association, 1998 to 2001
– Teaching assistant for the Gross Anatomy Cadaver Lab




Barry University — Miami Shores, Florida




Masters of Science Degree in Biomedical Sciences — December 1998




University of Central Florida — Orlando, Florida




Bachelor of Science Degree in Biology, May 1997

Kappa Delta Sorority — Fall 1993

VOLUNTEER HEALTHCARE EXPERIENCE:

Secretary/Treasurer Executive committee elected President Elect, American Board of Foot and Ankle Surgeons 2020
Executive committee elected Secretary/Treasurer, American Board of Foot and Ankle Surgeons 2019
CBPS Review Committee Member of the American Board of Foot and Ankle Surgeons (2018)

Committee selected to review computer based patient simulation test questions used for Podiatric Foot and Ankle Surgeons seeking to be board certified

Poster Judge American College of Foot and Ankle Surgeons* Volunteer, Annual Scientific Conference 2017
Elected Board of Directors, American Board of foot and Ankle Surgeons* Volunteer, 2016 to present
Strategic Planning Committee Member of the American Board of Foot and Ankle Surgery (2014)

Committee in charge of the future of the board and future of Podiatric Foot and Ankle Surgeons

Cognitive Exam Committee Member of the American Board of foot and Ankle Surgery (2010 to present)

Committee in charge of the written portion of surgical board certification and qualification exams for all Podiatric Foot and Ankle Surgeons seeking to be certified

We Care Program — Indian River County, Florida

Volunteer—2005 to Present
Providing free services to indigent patients of Indian River Country

Sebastian High School Health Screening — Sebastian, Florida

Volunteer—2006
Health Screening for High School Athletes

Hialeah Middle School — Miami, Florida

Volunteer—2001 to 2004
Provide foot screenings to the students and referrals when needed

Lamisil® Patient Screenings — Miami, Florida

Volunteer—2001 to 2004
Provide foot screenings to patients at their primary medical doctor's office and discuss any needed treatments with their physician.

Diabetic Foot Screenings — Miami, Florida

Volunteer—2001 to 2004
Provide foot screenings and diabetic foot care instructions/referrals to patients recently diagnosed with diabetes

VOLUNTEER EXPERIENCE:

Florida Keys Children's Shelter—Key Largo, Florida

Volunteer—2005
Planning and executing fund-raising events to fund the continuation of the shelter

American Diabetes Association Walk-a-Thon—Miami, Florida

Volunteer—1998 to 2001
Assisted in finding sponsors to raise money for the ADA

Special Olympics—Orlando and Miami, Florida

Volunteer—1996 to 2001
Participated in the communities Special Olympics as an event guide to the athlete

President of the Indian River County Podiatric Medical Association (2018 to present)

MEMBERSHIP:

Board of Directors, American Board of Foot and Ankle Surgery (2016 to present)
Member, American Board of Podiatric Surgeons — 2001 to Present
Member, American Academy of Podiatric Practice Management — 2007 to Present
Fellow, American College of Foot and Ankle Surgeons — 2001 to Present
Member, American Podiatric Medical Association — 2001 to Present
Fellow, American Professional Wound Care Association — 2008 to Present

PUBLICATIONS:

Correction of Adult Neurogenic Club Foot Using the Ilizarov External Fixator: A Report of Two Cases — American College of Foot and Ankle Surgeons 2005 Annual Scientific Conference Poster Presention
Ankle Arthrodiastasis with Supartz Injections An Alternative to Arthrodesis: A report of 43 Patients — American College of Foot and Ankle Surgeons 2004 Annual Scientific Conference Poster Presentation
The Buechel-Pappas Total Ankle Joint Replacement: Report on 57 cases — Update 2002 The proceedings of the Annual Meeting of the Podiatry Institute. Chapter 53, pp. 310-319
Current Literature: "Possible Therapeutic Effects of Growth Hormone on Wound Healing in the Diabetic Patient" — Podiatry Quarterly Vol. 88, Number 1, January 1998 pp. 25-29
"Possible Therapeutic Effects of Growth Hormone on Wound Healing in the
Diabetic Patient" — Podiatry Quarterly Vol. 88, Number 1, January 1998, pp. 25-29.
Curriculum Vitae of Amberly Paradoa

LECTURES:

Lecturer- ABFAS Board Certified process, SAM Seminar; Orlando, Fl. 2019
Lecturer- Florida Eye Institute: Diabetic Symposium: Effects of Diabetes on your Feet; Sebastian, Fl. 2014-2015
Lecturer – Advanced Motion Therapautic – 2012
Lecturer — Nurse on Call Women's Symposium: Common Foot and Ankle Disorders in Women — Vero Beach, Florida 2009
Lecturer — Wound Healing Center Lecture at Merrill Gardens and Indian River Estates — Vero Beach, Florida 2007
Lecturer — VNA Diabetes Seminar at McKee Gardens — Vero Beach, Florida 2007
Lecturer — 2007 SAM Seminar ACFAS Lecture Series—Calcaneal Fracture Treatment: the old and the new — Orlando, Florida 2007
Faculty — ACFAS Advanced External Fixation Course—Memphis, Tennessee 2005
Faculty and Lecturer — Bimalleolar Fractures & Bimalleolar Equivalent Fractures and Laboratory Faculty, Ace DePuy Symposia of Trauma Applications for the Foot and Ankle — Miami, Florida October 2004
Faculty and Lecturer — Smith & Nephew Foot and Ankle Ilizarov External Fixation Course—Miami, Florida October 2004
Faculty and Lecturer-Smith & Nephew Foot and Ankle Ilizarov External Fixation Course; Miami, Fl. October 2004
Advanced Osteogenesis for Fracture Healing (Exogen Ultrasound) ACFAS Foot and Ankle Applications of the Ilizarov Method — Memphis, Tennessee October 2003
Advanced Osteogenesis with Pulsed Electromagnetic Fields—Orthofix Physiostim Light Podiatry Institute—Foot and Ankle External Fixation Course — Atlanta, Georgia July 2003
Supartz Injections with Arthodiastasis of the Ankle Joint — Lecture prepared for Podiatry Institute External fixation course and for mass production by Smith Nephew — July 2003
Murphy Procedure for Spastic Equinus in Pediatric Patients — Palmetto General Hospital Experience in Merida, Mexico. CME credit course provided by Yucatan Crippled Children's Project
Comprehensive Foot and Ankle Trauma — Annual Family Practice Residents Meeting—Nova Southeastern University — September 2002
Buechel-Pappas Total Ankle Replacement — Ongoing lectures given to several podiatric and orthopedic surgeons throughout the United States and abroad
Triplane Fractures and Fracture Management — Palmetto General Hospital, Miami VA Hospital
Metatarsus Adductus — Lecture given for residents at Presby St. Lukes Hospital, Denver — Colorado
Acutect® for the Detection of Deep Venous Thrombosis — Lecture given to residents at the Podiatry Institute of Miami Heart Hospital
Pediatric Orthopedics — Monthly lectures to interns and residents at Palmetto General Hospital