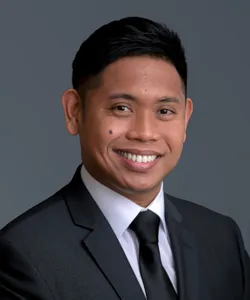 Dr. Robby John Caballes is a native to South Florida born and raised in Miami. From his early years, Dr. Caballes held aspirations of becoming a doctor. He attended Doctors Charter Highschool in Miami Shores, Florida where he became the second recipient in the school's history to be awarded the student-scholar athlete award. He then attended Florida International University and graduated with Magna Cum Laude honors in the Biological Sciences. Dr. Caballes went on to pursue his doctorate education at Barry University School of Podiatric Medicine. Thereafter, he completed his 3-year high-volume surgical residency at Bethesda Hospital in Boynton Beach, Florida. There, he underwent extensive surgical training in all areas specialized to the foot and ankle including elective flatfoot deformity reconstruction, nerve decompression, ankle arthroscopy, total ankle replacement, infection management, and diabetic Charcot reconstruction/limb salvage.
Outside of the operating room, Dr. Caballes holds a desire for academic advancement in his field. He has authored multiple published literature works and has presented at national conferences during his surgical residency. As part of an initiative to provide non-profit surgical services to children with lower extremity deformities, Dr. Caballes was involved in a mission trip to the Yucatan Peninsula as part of The Yucatan Crippled Children's Project under the leadership of Dr. Charles Southerland. At the age of 29, Dr. Caballes has obtained the status of Board Qualification in Forefoot and Rearfoot Surgery under the American Board of Foot and Ankle Surgery.
Dr. Caballes was born into a family whose passion is seeded deep in the Filipino culture. When he is not with his patients, he loves to spend time cooking with his mother, Marciana, playing tennis with his father, Florencio and fishing/boating with his brother, Dr. Timothy Caballes.
"It has been a long road in my life leading up to this moment where I can finally use the knowledge I've obtained to give back to the community that helped build the person I am today. I am beyond thankful for this opportunity to provide services to those who need it most. Practicing medicine will come with many trials and tribulations, but I will always live and practice by this motto which has guided me throughout all my years -- treat them with the same love and care that you would treat mom and dad, and both you and your patients will prosper." ~ Dr. Robby John Caballes
CERTIFICATIONS AND LICENSURES:

Board Qualified, American Board of Foot and Ankle Surgery (ABFAS) forefoot and rearfoot reconstructive surgery
Board Certified, American Board of Podiatric Medicine (ABPM)
Florida Podiatric Medical License PO 4156 (January 16, 2020 - March 31, 2022)

EDUCATION & TRAINING:

Bethesda Hospital Surgical Foot and Ankle Residency – July 2017 - June 2020
- Boynton Beach, FL
- 3-year residency program
- Podiatric Medicine & Surgery Residency with Reconstructive Rearfoot and Ankle Certification (PMSR and RRA)
- Director: Dr. Kyle Kinmon, DPM, FACFAS
Program emphasis:
- Forefoot and complex rearfoot, ankle, and leg reconstructive surgery
- Foot and ankle traumatology with specialization in external fixation of the lower extremity
- Total ankle replacements
- Diabetic limb salvage and wound care
- Diabetic neuropathy and nerve entrapment
- Charcot Reconstruction
- Sports Medicine

Barry University School of Podiatric Medicine – August 2013 - May 2017
  Miami Shores, FL 33161
  Doctor of Podiatric Medicine, May 2017
Florida International University – August 2009 - July 2013
  Miami, FL 33199
  Bachelor of Science in Biological Sciences
  Magna Cum Laude honors

BOARDS AND OTHER CERTIFICATIONS:

Advanced Cardiac Life Support (ACLS), American Heart Association
Basic Life Support (BLS), American Heart Association
Board Certification, American Board of Foot and Ankle Surgery (ABFAS)
Board Certification, American Board of Podiatric Medicine (ABPM)
National Board of Podiatric Medicine Exam Part I
National Board of Podiatric Medicine Exam Part II
National Board of Podiatric Medicine Exam Part III

LEADERSHIP POSITIONS:

July 2019 - June 2020 | Bethesda Hospital Surgical Foot and Ankle Residency, Chief Resident PGY-III
– Served as chief resident during third year of residency. 3-year intensive surgical program.
April 2014 - August 2015 | Asian & Pacific Islander Association for Podiatric Students (APAPS), Vice President
– In charge of volunteering events as well as bringing recognition to minorities in Podiatry
April 2015 - August 2016 | Podiatric Medical Missions Club - Yucatan Project, Liaison
– Responsibilities included organizing fundraising events to raise money for The Yucatan Crippled Children's Project run by Dr. Charles Southerland of Barry University School of Podiatric Medicine
July 2014 - May 2015 | Anatomy Teaching Assistant (Barry University) Gross Anatomy and Lower Extremity Anatomy
– Second-year Anatomy Teaching assistant and mentor for first-year podiatric students during cadaver lab dissections

COMMUNITY SERVICE WORK, INVOLVEMENT, AND EXPERIENCES:

September 2020 | Leneva Fat Pad Restoration
– Attended course under Dr. Jodi Schoenhaus, DPM regarding restoration of plantar fat pad with use of Leneva
February 2020 | Minimally invasive surgery (MIS) bunion cadaver lab demonstration (The Paley Orthopedic & Spine Institute)
– Cadaver lab to explore MIS bunion technique in coordination with Dr. Jodi Schoenhaus, DPM and Dr. Bradley, Lamm DPM
August 2019 | Wright Medical INFINITY Total Ankle Replacement (TAR) cadaver lab simulation
– Attended 1-day course simulation of total ankle replacement cadaver lab
– Sponsor: Wright Medical in coordination with Dr. Ashley Bowles, DPM
June 2019 | Bethesda Hospital Community Educational Program for the Elderly and Retired
– PGY-II resident - provided podiatry informational/educational session to the Boynton Beach elderly community
– Educated attendees on Podiatric medicine and diabetic foot care and awareness
June 2019 | The Yucatan Crippled Children's Project
– Attended mission trip as PGY-II resident doctor
– Surgical experience / volunteer service for children in Merida, Yucatan, Mexico
– Deformities involving Cerebral Palsy, CCV, equinus contractures, and limb-length deformities
April 2014, July 2015 | Special Olympics Florida, Fit Feet Volunteer
– Performed biomechanical evaluations as well as fitted shoes with orthotics for athletes with special needs
April 2014 /2015, March 2016 | Good Friday Homeless Clinic Event, Volunteer
– Served the homeless by providing free nail clippings as well as foot washings and vascular examinations of the lower extremities
March 2015 | Missionaries of Charity - Mother Teresa Home for Women in Distress, Volunteer
– Provided free nail clippings, foot washings, and callus removals to the homeless
April 2015 | First United Methodist Church, Annual Homeless Foot Screening, Volunteer
– Provided free nail clippings/care to the homeless
March 2014 | Foot and Ankle Ligament Workshop
– Attended workshop as a first-year podiatry student
– Introduction to ligaments of the foot and ankle as well as utilization of Doppler
March 2014 | Denim for Diabetes Fundraiser
– One-day fundraiser for diabetes
– Raised awareness for children and adults with diabetes

AWARDS:

August 2013 - 2017 | Barry University School of Podiatric Medicine Merit Scholarship
August 2013 - 2017 | Dean's List

RESEARCH / PUBLICATIONS:

April 2021 | Restoration of 2nd MTP Joint Function Using a Novel Lesser MTP Implant (In2Bones RTS Lesser MTP)
– Authored novel case study presenting the use of RTS lesser MTP implant for Freiberg's infraction of the 2nd metatarsal
June 2020 | Peer Review: Evaluation of Results After Distal Metatarsal Osteotomy by Minimally Invasive Surgery for the Treatment of Metatarsalgia: Patient and Anatomical Pieces Study
– Peer Scientific Literature Review in American College of Foot and Ankle Surgeons (ACFAS)
April 2020 - current Tarsometatarsal Joint Trephine Arthrodesis with Distal Tibial Dowel Bone Graft - Outcomes and Complications
– Recent on-going research focusing on radiographic and functional outcomes following distal tibial dowel graft harvest and tarsometatarsal joint arthrodesis
September 2019 | Obviating The Need for Plantar Plate Repair with Weil Osteotomy
– Research focusing on Weil osteotomy as the primary surgical indication for plantar plate injury
– Work submitted/accepted for ACFAS 2019-2020 presentation
June 2019 - current The Use of Juvederm Voluma XC for Cushioned Comfort When Walking - Pressure Offloading Injection System (POIS)
– On-going research focusing on the use of Juvederm Voluma XC (initially used for facial botox) in the foot for pressure offloading
– In coordination with Dr. Jodi Schoenhaus DPM, FACFAS
July 2017 - current Functional and Radiographic Outcomes in Rearfoot/Ankle Fusion Following Application with Physio Bone Tissue Allograft
– Recent on-going publication focusing on utilization of Physio Bone Tissue Allograft in surgical procedures with emphasis on revisional surgery
– Work submitted/accepted for ACFAS 2018-2019 presentation
May 2019 Critical Limb Ischemia Journal for Vascular Surgeons -- #CLIFighters: Podiatry Residents Collaborate to Create Dedicated Rotation to Say "No" to Amputation
– Published spread-article in Vascular Journal together with Dr. Paul Michael MD (Interventional Cardiology)
– Focus on limb-salvage through collaboration with Interventionalists at the micro-vascular level
March 2019 Peer Review: Talus Bipartitus: A Rare Anatomical Variant Presenting as an Entrapment Neuropathy of the Tibial Nerve Within the Tarsal Tunnel
– Peer Scientific Literature Review in American College of Foot and Ankle Surgeons (ACFAS)
August 2015 - May 2017 Spina Bifida: A Twenty Year Struggle with Osteomyelitis
– Research on the relationship between cerebral palsy patients, neurological deficits, and the correlation to osteomyelitis of the ulcerated foot
– Worked in association with Dr. Luis Rodriguez, DPM, attending physician at Mercy Hospital and Barry University Foot and Ankle Institute
– Work published in Journal Clinics in Surgery

PROFESSIONAL LECTURES / SEMINARS:

April 2020 South Florida Grand Rounds
– Case presentation / review / discussion
– Revision of Ankle Non-union with Femoral Head Allograft and Intramedullary Nail
January 2020 Florida Podiatric Medical Association (FPMA) Science and Management (SAM) – Symposium at Disney's Coronado Springs Resort
– Resident showcase / case presentation
– Revision of Subtalar Joint Non-union With Titanium Cage: a Posterior Approach
December 2019 Stryker DPM Advanced Residents Course, San Diego, CA
– Attendance during 3-day course specializing in podiatric education / advanced skills
September 2019 Toes in the Sand Conference, Boynton Beach, FL
– Resident showcase / case presentation
– Complications of an Open Pilon Fracture
August 2019 Baptist Health Scholarly Showcase, Kendall, FL
– Resident showcase / case presentation / poster presentation
– Revision of Failed Total Ankle Replacement with Custom 3-Dimensional Printed Talar – Component With a Titanium Truss Cage: A Case Presentation
February 2019 ACFAS National Conference, New Orleans, FL
– Resident showcase / poster presentation acceptance
– Functional and Radiographic Outcomes in Rearfoot/Ankle Fusion Following Application with Physio Bone Tissue Allograft
March 2016 - Annual Agnes Seminar, Barry University, Miami Shores, FL
January 2016 - Science and Management Symposium (SAM), Orlando, FL
July 2015 - APMA National Conference, Orlando, FL
February 2014 - Annual Agnes Seminar, Barry University, Miami Shores, FL
January 2014 - Science and Management Symposium (SAM), Orlando, FL

PROFESSIONAL AFFILIATIONS / MEMBERSHIP:

American Podiatric Medical Association Current
Florida Podiatric Medical Association Current
American College of Foot and Ankle Surgeons Current
American Board of Podiatric Medicine Current

PROFESSIONAL INTERESTS:

Fat pad restoration
Wound Care Management
Diabetic Foot Management
Practice Management
Limb Salvage and Preservation
Reconstructive Surgery
Academia
Clinical Research
Nerve entrapment
Minimally invasive bunion surgery (MIS)
Education/Teaching

PERSONAL INTERESTS:

Pickleball
Kayak-fishing / Boating
Karaoke
Trail biking
Jeep off-roading / Jeep Trailing
Tennis
Tough Mudder Annual Races for Veteran Support