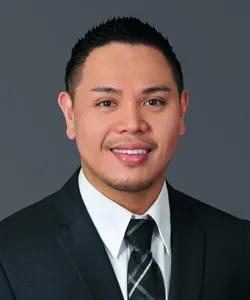 Dr. Timothy Caballes is an associate foot and ankle surgeon at Advanced Foot and Ankle of Indian River and has served the Indian River County Community since 2014.
Dr. Timothy Caballes is double board certified in Foot Surgery and Reconstructive Rearfoot & Ankle surgery by the American Board of Foot and Ankle Surgery (ABFAS), and he is a fellow of the American College of Foot and Ankle Surgery (ACFAS). He is also a Diplomate of the American Board of Podiatric Medicine (ABPM). He serves both county hospitals, Cleveland Clinic Indian River Hospital and Sebastian River Medical Center, as well as their respective wound care centers.
A native South Floridian, Dr. Timothy Caballes attended Archbishop Curley-Notre Dame High School in Miami, FL where he graduated at the top of his class as valedictorian. He then went on to attend the University of Miami on an educational scholarship earning his Bachelor's degree in Microbiology and Immunology. After his undergraduate studies, he attended Barry University in Miami Shores, FL where he completed his Doctorate in Podiatric Medicine. He completed a 3-year foot and ankle surgical residency at Palmetto General Hospital in South Florida focused on trauma and reconstructive foot and ankle surgery and limb salvage. During his time in residency, he was involved in mission trips to the Dominican Republic and the Yucatan Peninsula performing reconstructive limb surgery on the underprivileged community.
Dr. Timothy Caballes is a first generation Filipino-American brought up by loving and hard-working parents who have ingrained strong family and core values into him and his brother, Dr. Robby Caballes. He is a caring husband, a decent cook, and enjoys outdoor activities such as saltwater and freshwater fishing and boating. He also enjoys competitive sports such as tennis and more recently pickleball of which he is a member of the local Vero Beach pickleball club. Dr. Caballes is proud to be part of a team of highly-skilled and caring foot and ankle surgeons at Advanced Foot and Ankle of Indian River.
HOSPITAL AFFILIATIONS:

Cleveland Clinic Indian River Hospital — July 2014 to Present
Panel Physician at Cleveland Clinic Indian River Hospital, Wound Healing Center — July 2014 to Present
Sebastian River Medical Center — July 2014 to Present
Panel Physician at Sebastian River Medical Center, Wound Care Center—July 2014 to Present
Encompass Health Rehabilitation Hospital — July 2014 to Present

EDUCATION & TRAINING:

Palmetto General Hospital Podiatric Residency Program – Hialeah, Florida — Graduated June, 2014

● 3-year residency program, PMSR + RRA – Podiatric Medicine & Surgery Residency with Reconstructive Rearfoot and Ankle Certification

Program Emphasis:

● Forefoot and complex rearfoot, ankle and leg reconstructive surgery
● Foot and ankle traumatology with specialization in external fixation of the lower extremity
● Diabetic limb salvage and woundcare

Barry University, Doctorate of Podiatric Medicine, Miami Shores, Florida — April 2011
University of Miami, Bachelor of Science & Microbiology & Immunology, Coral Gables, Fl. – December 2005

BOARD CERTIFICATION:

Board Certified in Rearfoot Reconstruction and Ankle Surgery - American Board of Foot and Ankle Surgery (ABFAS)

Board Certified in Foot Surgery - American Board of Foot and Ankle Surgery (ABFAS)

Board Certified, Diplomate of the American Board of Podiatric Medicine (ABPM)

National Board of Podiatric Medicine Exam, Part 2 – March 2011

National Board of Podiatric Medicine Exam, Part 1 – July 2009
National Board of Podiatric Medicine Exam, Part 2– March 2011
National Board of Podiatric Medicine Exam, Part 3– December 2012

CERTIFICATIONS AND LICENSURES:

Florida State Podiatric Medical License - March 2013 to present
Advanced Cardiac Life Support - July 2013 to present
Basic Life Support - July 2013 to present

SPECIALTY TRAINING:

MDPO External Fixator System – Trained in advanced application for lower extremity fractures and reconstruction.
Taylor Spatial Frame from Smith & Nephew – Trained in application for deformity correction.

LECTURES/RESEARCH EXPERIENCE:

Ankle Arthrodesis with MDPO External Fixation Lecture, October 5, 2013. MDPO External Fixation Symposium – Hialeah, FL
Revascularization of an Ischemic Limb via Excimer Laser Artherectomy Research Poster, 2009. 2nd place award at 2010 FPMSA AGNES Seminar, Barry University – Miami Shores, FL

PROFESSIONAL ORGANIZATIONS:

American Podiatric Medical Association – 2011 to Present
American College of Foot and Ankle Surgeons – 2011 to Present
American Academy of Podiatric Practice Management, member – 2009 to 2011
Save a Limb Save a Life Club, charter member – 2009 to 2011
American Podiatric Medical Student's Association, member – 2007 to 2011
Florida Podiatric Medical Students's Association, member – 2007 to 2011
Alpha Gamma Kappa Fraternity Barry University Chapter, founding charter member – 2007 to 2011
Student National Podiatric Medical Association – 2007 to 2011
American College of Foot and Ankle Surgeons Student Chapter, national member – 2007 to 2011

CONTINUED EDUCTION/PROFESSIONAL ACTIVITIES:

Stryker Resident Board Review Course in Chicago, IL – 2014, April
Stryker Foot & Ankle Residence Dissection Course – 2013, December
MDPO External Fixation Symposium – 2013, October
Arthrex Ankle Arthroscopy/Internal Fixation Workshop – 2013, March
South Florida Foot and Ankle Symposium – 2012, September
Stryker Internal Fixation Course – 2012
Medtronic Osteobiologic Summit, Chicago, IL – 2011, October
Synthes Sawbone Workshop, Mount Sinai Medical Center – 2011, October
AGNES Seminar, Barry University School of Podiatric Medicine – 2010
FPMA Science & Management Conference (SAM) in Orlando, FL – 2010, January
Vascular Seminar, Barry University School of Podiatric Medicine – 2009
Sports Medicine Seminar, Barry University School of Podiatric Medicine – 2009, October
Practice Management Residency Symposium – 2009, September

VOLUNTEER/COMMUNITY SERVICE:

Yucatan Crippled Children's Project mission trip

● Merida, Mexico – November 2013
● Surgical and Clinical mission involving Complex Lower Extremity Deformity Correction in Pediatrics

Steps of Life Foundation mission trip

● Santo Domingo, Dominican Republic – July 2012
● Santo Domingo, Dominican Republic – November 2013
● Surgical mission involving Complex Lower Extremity Deformity Correction in Adults and Pediatrics

Foot care for the Homeless in Downtown Miami – 2009, September
Health fair at the Holy Family Episcopal Church – 2009, August
Annual AGK clinic at the Homeless Shelter in Homestead, FL – 2008 & 2009
American Cancer Society "Relay for Life" volunteer – 2008 & 2009

SPECIALTY TRAINING:

MDPO External Fixator System – Trained in advanced application for lower extremity fractures and reconstruction.
Taylor Spatial Frame from Smith & Nephew – Trained in application for deformity correction.

LECTURES/RESEARCH EXPERIENCE:

Ankle Arthrodesis with MDPO External Fixation Lecture, October 5, 2013. MDPO External Fixation Symposium – Hialeah, FL
Revascularization of an Ischemic Limb via Excimer Laser Artherectomy Research Poster, 2009. 2nd place award at 2010 FPMSA AGNES Seminar, Barry University – Miami Shores, FL

PROFESSIONAL ORGANIZATIONS:

American Podiatric Medical Association – 2011 to Present
American College of Foot and Ankle Surgeons – 2011 to Present
American Academy of Podiatric Practice Management, member – 2009 to 2011
Save a Limb Save a Life Club, charter member – 2009 to 2011
American Podiatric Medical Student's Association, member – 2007 to 2011
Florida Podiatric Medical Students's Association, member – 2007 to 2011
Alpha Gamma Kappa Fraternity Barry University Chapter, founding charter member – 2007 to 2011
Student National Podiatric Medical Association – 2007 to 2011
American College of Foot and Ankle Surgeons Student Chapter, national member – 2007 to 2011

CONTINUED EDUCTION/PROFESSIONAL ACTIVITIES:

Stryker Resident Board Review Course in Chicago, IL – 2014, April
Stryker Foot & Ankle Residence Dissection Course – 2013, December
MDPO External Fixation Symposium – 2013, October
Arthrex Ankle Arthroscopy/Internal Fixation Workshop – 2013, March
South Florida Foot and Ankle Symposium – 2012, September
Stryker Internal Fixation Course – 2012
Medtronic Osteobiologic Summit, Chicago, IL – 2011, October
Synthes Sawbone Workshop, Mount Sinai Medical Center – 2011, October
AGNES Seminar, Barry University School of Podiatric Medicine – 2010
FPMA Science & Management Conference (SAM) in Orlando, FL – 2010, January
Vascular Seminar, Barry University School of Podiatric Medicine – 2009
Sports Medicine Seminar, Barry University School of Podiatric Medicine – 2009, October
Practice Management Residency Symposium – 2009, September

VOLUNTEER/COMMUNITY SERVICE:

Yucatan Crippled Children's Project mission trip

● Merida, Mexico – November 2013
● Surgical and Clinical mission involving Complex Lower Extremity Deformity Correction in Pediatrics

Steps of Life Foundation mission trip

● Santo Domingo, Dominican Republic – July 2012
● Santo Domingo, Dominican Republic – November 2013
● Surgical mission involving Complex Lower Extremity Deformity Correction in Adults and Pediatrics

Foot care for the Homeless in Downtown Miami – 2009, September
Health fair at the Holy Family Episcopal Church – 2009, August
Annual AGK clinic at the Homeless Shelter in Homestead, FL – 2008 & 2009
American Cancer Society "Relay for Life" volunteer – 2008 & 2009

BOARD CERTIFICATION:

Board Certified in Rearfoot Reconstruction and Ankle Surgery - American Board of Foot and Ankle Surgery (ABFAS)

Board Certified in Foot Surgery - American Board of Foot and Ankle Surgery (ABFAS)

Board Certified, Diplomate of the American Board of Podiatric Medicine (ABPM)

National Board of Podiatric Medicine Exam, Part 2 – March 2011

Advanced Cardiac Life Support (ACLS), American Heart Association

Basic Life Support (BLS), American Heart Association

National Board of Podiatric Medicine Exam, Part I – July 2009
National Board of Podiatric Medicine Exam, Part II – March 2011
National Board of Podiatric Medicine Exam, Part III – December 2012

CERTIFICATIONS AND LICENSURES:

Florida State Podiatric Medical License - March 2013 to present
Advanced Cardiac Life Support - July 2013 to present
Basic Life Support - July 2013 to present
Board Qualified, American Board of Foot and Ankle Surgery (ABFAS) forefoot and rearfoot reconstructive surgery
Board Certified, American Board of Podiatric Medicine (ABPM)
Florida Podiatric Medical License PO 4156 (January 16, 2020 - March 31, 2022)

SPECIALTY TRAINING:

MDPO External Fixator System – Trained in advanced application for lower extremity fractures and reconstruction.
Taylor Spatial Frame from Smith & Nephew – Trained in application for deformity correction.

LECTURES/RESEARCH EXPERIENCE:

Ankle Arthrodesis with MDPO External Fixation Lecture, October 5, 2013. MDPO External Fixation Symposium – Hialeah, FL
Revascularization of an Ischemic Limb via Excimer Laser Artherectomy Research Poster, 2009. 2nd place award at 2010 FPMSA AGNES Seminar, Barry University – Miami Shores, FL

PROFESSIONAL ORGANIZATIONS:

American Podiatric Medical Association – 2011 to Present
American College of Foot and Ankle Surgeons – 2011 to Present
American Academy of Podiatric Practice Management, member – 2009 to 2011
Save a Limb Save a Life Club, charter member – 2009 to 2011
American Podiatric Medical Student's Association, member – 2007 to 2011
Florida Podiatric Medical Students's Association, member – 2007 to 2011
Alpha Gamma Kappa Fraternity Barry University Chapter, founding charter member – 2007 to 2011
Student National Podiatric Medical Association – 2007 to 2011
American College of Foot and Ankle Surgeons Student Chapter, national member – 2007 to 2011

CONTINUED EDUCTION/PROFESSIONAL ACTIVITIES:

Stryker Resident Board Review Course in Chicago, IL – 2014, April
Stryker Foot & Ankle Residence Dissection Course – 2013, December
MDPO External Fixation Symposium – 2013, October
Arthrex Ankle Arthroscopy/Internal Fixation Workshop – 2013, March
South Florida Foot and Ankle Symposium – 2012, September
Stryker Internal Fixation Course – 2012
Medtronic Osteobiologic Summit, Chicago, IL – 2011, October
Synthes Sawbone Workshop, Mount Sinai Medical Center – 2011, October
AGNES Seminar, Barry University School of Podiatric Medicine – 2010
FPMA Science & Management Conference (SAM) in Orlando, FL – 2010, January
Vascular Seminar, Barry University School of Podiatric Medicine – 2009
Sports Medicine Seminar, Barry University School of Podiatric Medicine – 2009, October
Practice Management Residency Symposium – 2009, September

VOLUNTEER/COMMUNITY SERVICE:

Yucatan Crippled Children's Project mission trip

● Merida, Mexico – November 2013
● Surgical and Clinical mission involving Complex Lower Extremity Deformity Correction in Pediatrics

Steps of Life Foundation mission trip

● Santo Domingo, Dominican Republic – July 2012
● Santo Domingo, Dominican Republic – November 2013
● Surgical mission involving Complex Lower Extremity Deformity Correction in Adults and Pediatrics

Foot care for the Homeless in Downtown Miami – 2009, September
Health fair at the Holy Family Episcopal Church – 2009, August
Annual AGK clinic at the Homeless Shelter in Homestead, FL – 2008 & 2009
American Cancer Society "Relay for Life" volunteer – 2008 & 2009